"Red Star / Pause, High Voltage"
19-12-2022 Gone to a new home, enjoy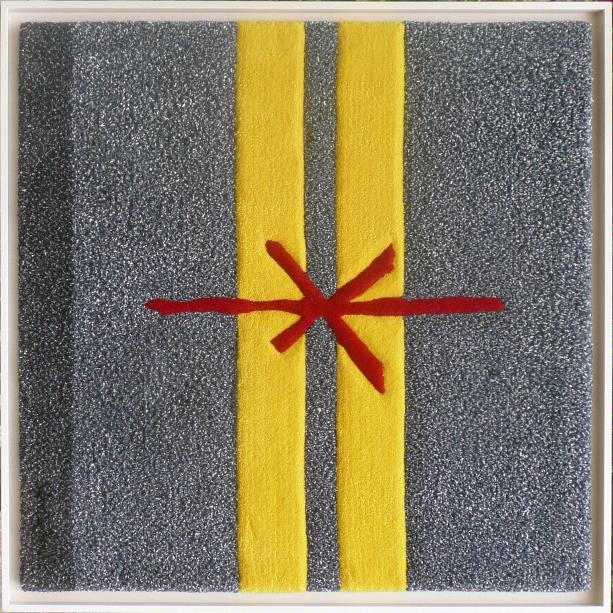 My venture into Rug Art is an extension of my "Industrial Graffiti" series on road markings into a tactile experience through textiles. Which presents an additional dichotomy and a paradox by representing hard horizontal surfaces in a soft, carved wool rug which in turn can be displayed on a vertical surface framed and hung as wall art or commissioned as Rug Art for a floor surface.
Images for a Rug Art commission can be chosen from any of my Paintings or from a portion of a painting and made to almost any size within reason.
The exhibited rug art piece "Pause, High Voltage" was crafted at The Dixon Carpet Company in Oughterard, County Galway and presented as Wall Art.
The acoustic benefits as such, of Rug Art as Wall Art can be discussed with Audio Specialists "Cloney Audio", Main Street Blackrock
There is approximately an eight week turnaround between ordering an agreed commissioned piece of Rug Art and completion followed by deliver / shipping.
Please email me for inquiries and further information
patrick.molloy2010@gmail.com
Pat
Title, "Brendan's (The Navigator's) Wave" Inspired by author Tim Severin's observations on wave sequences experienced and recounted in his book "The Brendan Voyage" Across the Atlantic in a leather boat. The third wave is the one! My five-stroke wave motion is influenced by the energy engendered by Chinese Calligraphers in their deft, practiced, energetic brush strokes. The strokes and textures are rendered in oil paint on a pre-prepared A3 board (41cm X 60cm). The textured background represents the mental anguish, turmoil and solace experienced by the sailors.
Price €450
The mounted image is presented and framed by In The Frame, Main Street, Blackrock.
Patrick: http://www.patrickmolloyart.com/ M: 086 367 7710
In The Frame: https://in-the-frame.ie/ M: 012780659

Oil on prepared board a study towards an image of "Brendan the Navigator's Wave #02" 415mm X 600mm (18" X 23.5"). Selected for upcoming online exhibition at www.artnetdlr.ie/exhibitions
"Winter Oak"
In this project, I collaborated with Photographer Linda Plunkett to formulate and manifest a visual and physical expression of "Metamorphosis" as engaged in by the propagation
, recycling and upcycling of trees.
In our piece, we present a late winter image of an Oak tree in an adaptation of a Japanese Shoji Screen as a piece of wall art. The work is composed of a photographic image of an Oak Tree printed on Japanese Kozo paper, mounted on Hanhnemuhle paper, which in turn we mounted on a sheet of 5mm foam board.
We present the image in an Oak frame in the style of a Japanese Shoji screen measuring 602mm high X 1032mm wide X 100mm deep constructed by cabinet-maker Liam McEvoy
In my"Terrestrial Series" and "Industrial Graffiti Series" I interrogate and interpret the optical and perspective effects of humankind and natures intervention on the natural environment